AUSTRALIA'S MOST PASSIONATE & AUTHENTIC BUBBLE TEA
At Sharetea Australia, we've been sharing our love of fun, creative and delicious bubble tea with our community since 2012 and we're proud to now be operating over 80 locations across the country. Sharetea upholds the tradition of a well-made tea, with a fresh, innovative perspective to make tea enticing to tea lovers from all cultures. It's been thanks to the love of our amazing customers that we've been able to establish our network – and we're always looking to grow! Will you be the owner of our next store?
The bubble craze has taken Australia by storm...
and is showing no signs of cooling off any time soon. The continuous innovation of imaginative, fun and exciting drinks is driving exponential growth around the country and the world. The bright colours, flavours and array of tasty toppings make this refreshing brew truly unique and an increasingly iconic part of popular culture. 
We want our franchise partners to share our values and goals. Our team is one that is passionate about setting you up for success! Will you be our next partner?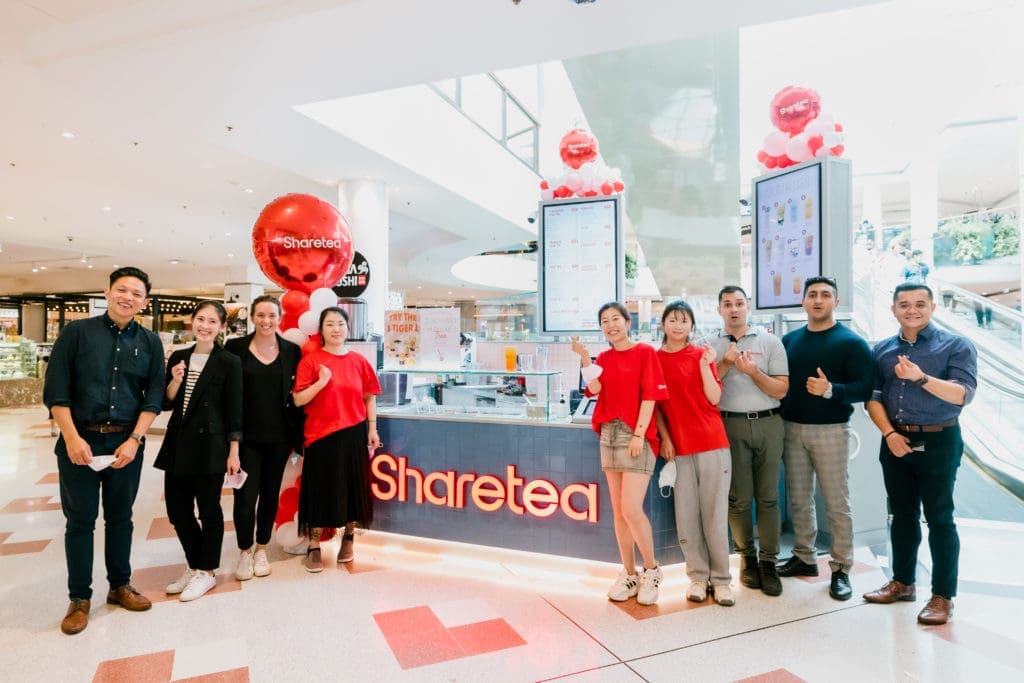 7 STEPS TO BECOMING A FRANCHISEE
Becoming the proud owner of a bubble tea franchise in Australia is easy for us:
Enquire now to get started
Find the contact form to enquire at the bottom of this page and take the first step towards becoming your own boss. Submitting the enquiry form does not obligate you in any way.
We'll have a friendly chat
Ask us any questions you might have, discuss your concerns and hopes, and we'll further explain our bubble tea franchise process and next steps.
Complete the online application
Now that you know more, we'll send you a comprehensive online application to get started.
Review financials and business plans
With the first steps out of the way, we'll fine-tune your business plan to match your future store location.
Let's meet for final approval
Time to discuss the final details, dot the Is and cross the Ts.
Sign on the dotted line
At this point, you and we are fully committed to your bubble tea franchise journey.
Start your store opening & training journey!
Take control of your life and run a successful franchise business with our full support.
HEAR FROM SOME OF OUR HAPPY FRANCHISEES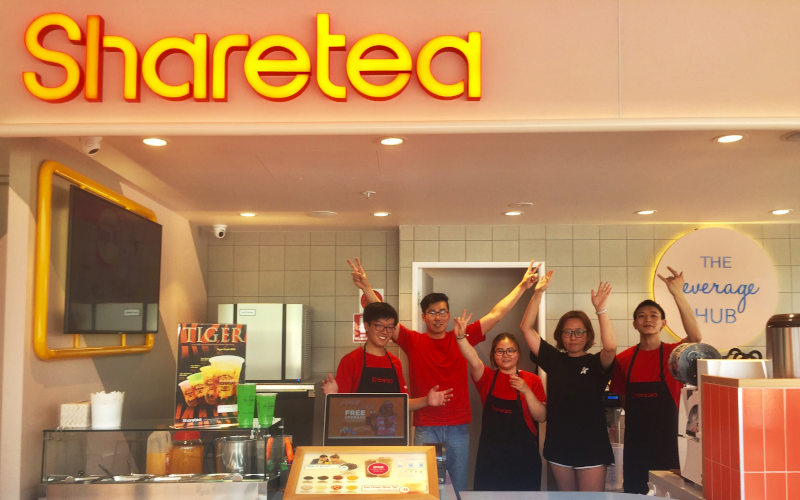 Michelle (Dickson, ACT)
Embarking on a journey with Sharetea Australia was tremendous.  The last two years have been both challenging and rewarding, in the way that I was able to work with my dedicated staff, like-minded peer franchisees, and supportive HO teams, to win the hearts of our customers, in the turbulent time such as COVID.   We've built up, slowly but surely, our abilities to serve our lovely customers and through collaboration with others, contribute to the growth of the whole network.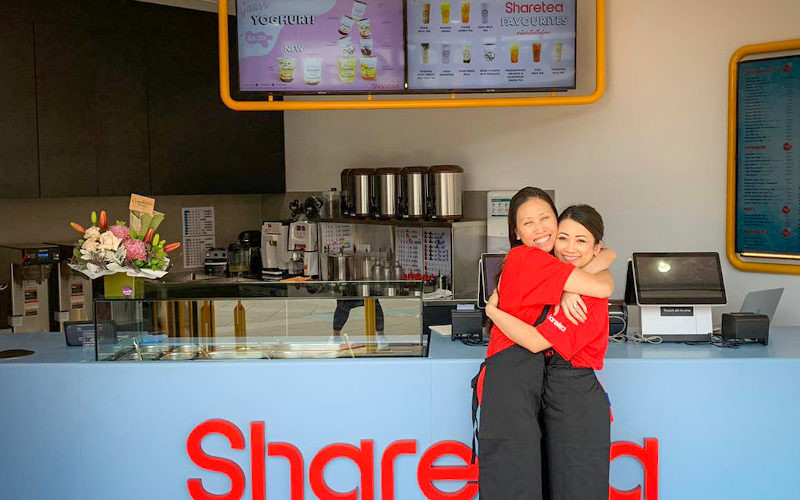 Kim and Lan (Fairfield, NSW)
We both wanted to have an additional source of income and be our own boss, after researching the market, we found that Sharetea fit in with our goals and that the brand aligned with our intended market. We also found that investing in a well-known franchise made starting out much easier as the processes were already in place and enabled us to focus on other parts of the business as well as balance our family commitments. We're grateful for the help and guidance from our area manager and this is particularly helpful in the early stages of growing the business! We also enjoy being a part of the store network and family.
WHY SHARETEA IS THE FRANCHISE FOR YOU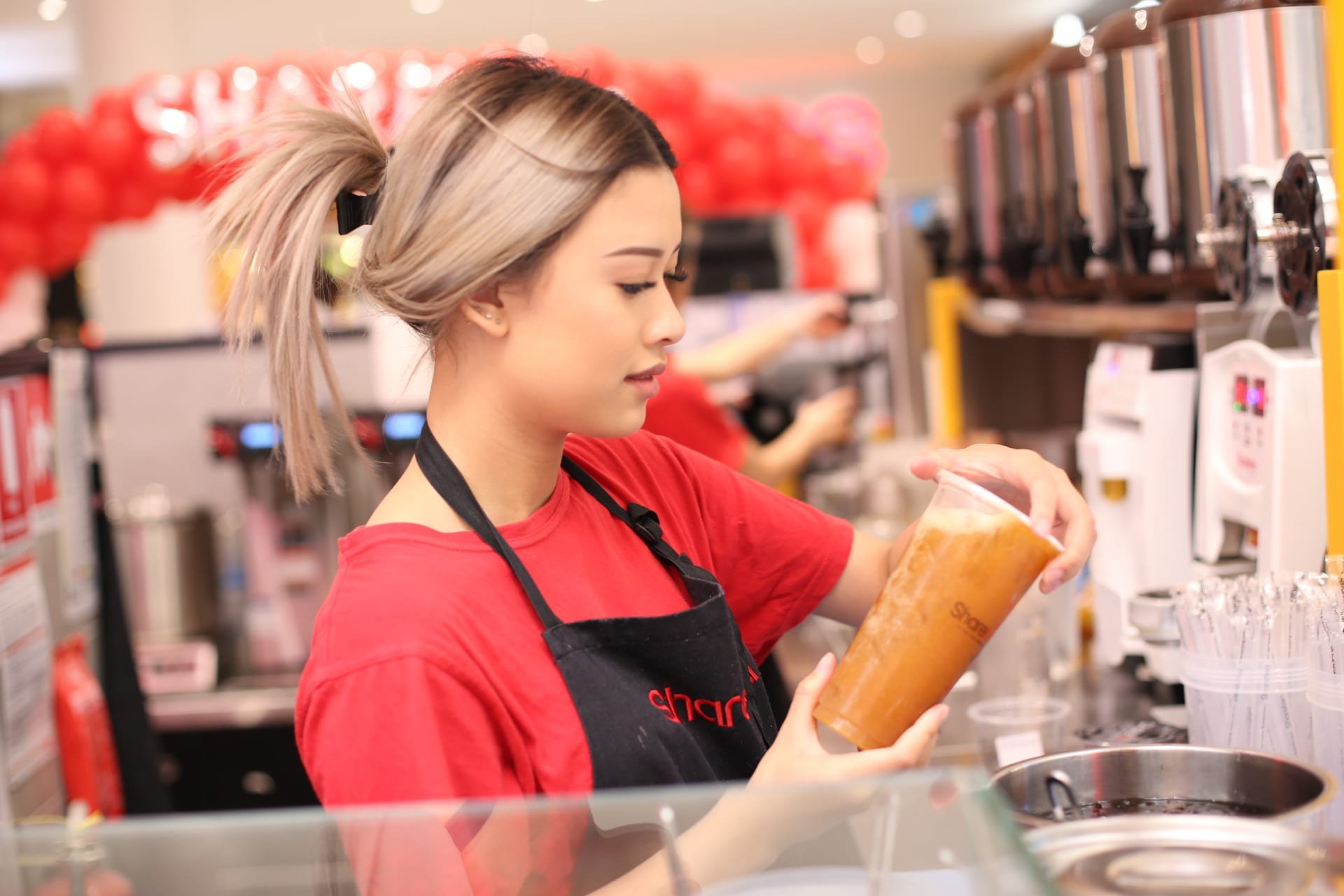 FREQUENTLY ASKED QUESTIONS
Is the application deposit refundable?
Yes, the application deposit is fully refundable at any stage throughout your recruitment process.
How much does your franchise opportunity cost?
The cost to franchise with Sharetea depends on the location you're looking to franchise. It is very difficult to indicate an average or approximate cost as there are too many variables to be consider. Get in contact with our team today to discuss further.
How much working capital do I need?
We recommend that you seek professional financial advice regarding the amount required, this is approximately 10% of the total investment cost.
Do I need cash or equity towards the purchase of a franchise?
Yes, you will need to have access to at least 50% of the total investment cost. Seeking professional advice, you may have this in actual cash, funding from family and friends, equity in your home/investment properties or a combination of all. We will require proof of funding levels within the recruitment process.
What kind of returns can I expect?
There are a significant number of variables to consider when owning and operating a franchise and therefore we cannot determine your success. Once an application form is submitted and after an initial face to face meeting we will provide you with Sharetea's historical network sales reports, Financial & Business Planning Guides to assist you in preparation.
It is essential that you consult your financial advisor as a part of your own due diligence and create your own forecasting model and plans.
What training can I expect to receive?
We provide a comprehensive 3-week training program for all new Business Partners that includes at least one week in Sydney. The in-depth training programme includes front to back operations support provided by our People & Culture team. The team will work closely with you and build your confidence as a business owner to confidently walk into and control your franchise.
Do I need to find a location?
No, Sharetea's highly experienced Leasing Executives will source and negotiate new sites with landlords and store owners.
How long is the application process?
Sharetea's application process typically takes 6-8 weeks however this is highly dependable on you as the potential business partner. We will work with you at a comfortable pace however please be mindful that there are other applicants interested and undertaking the same process.
How much does a bubble tea franchise cost?
The cost of a bubble tea franchise will vary depending on the location and size of the store. To learn more about the set-up costs for a bubble tea franchise with Sharetea Australia, contact us today on [email protected] or call 02 9262 1503, and we'll help you get started!
Is it more cost-efficient to get a franchise than to start your own milk tea business?
Unlike facing the challenges of starting your own business alone, at Sharetea Australia, we offer a full-service approach. Our turn-key solution includes store fit-out, equipment, training, new store opening promotion and ongoing operations and marketing support. Since we remove the complexity of setting up your own business and offer continuous support once you are up and running, many people open a bubble tea franchise in Australia with us as a cost-effective solution.
Are there other expenses aside from the franchise fee?
Yes, there are other expenses associated with running a Sharetea bubble tea franchise. Costs include supplies, signage, and rent for your space. As you would if you were running your own business, you will also need to hire employees to staff your store and cover operational costs. Our entry cost is very competitive, making Sharetea one of the easiest franchises to join.
Who is the target audience for a bubble tea shop?
The appeal of bubble tea extends to a wide audience. While young adults in the 16-35 age bracket are the main customers, people of all ages and cultures are attracted to bubble tea because it's a fun and personalised experience that extends beyond taste.
Bubble tea offers a textural element, for example by including boba pearls, which makes it more exciting than coffees or standard teas. Another reason behind the growing demand for bubble tea is the customisation element. Flavour, sugar and ice levels can be adjusted, making room for exponentially different bubble tea drinks you can order.
How much profit does a bubble tea shop make?
Sharetea bubble tea franchises can be an extremely profitable enterprise. We've been in the bubble tea business for over 10 years, and during that time, we've collected a lot of experience on what works and what doesn't to help you hit your financial goals.
At Sharetea, we do more than sign you up for a franchise store. When you open a bubble tea franchise in Australia, you become our partner and will receive full training and marketing support! We will offer you a wide range of benefits, including but not limited to:
Our specialist team source, design and manage the construction of your new store.
We provide supply chain for ease of ordering, consistency of product & customer satisfaction.
We deliver tailor-made training and ongoing support based on your background and needs.
We hold open forum for input and feedback on product development and business optimisation.
Our industry-experienced marketing teams manage the Sharetea brand nationally. We also provide consultation and support on targeted local marketing activities to promote your business
LET'S GET STARTED
ENQUIRE TODAY ABOUT BECOMING A FRANCHISEE
CONTACT US TODAY
This is your chance to take control of your own future, escape the 9-5 and live the lifestyle you've always wanted – with a company that has a commitment and proven track record in growth and success!
We support you on an ongoing basis, from training, mentoring, ongoing support and development, and involvement in product innovation through our proven and reliable franchise system. You are the key to our continued success and we're the key to yours!
Just get in touch with one of our friendly team members, and we'll take you through the simple process of applying!